Dimension XL, RXL, RXL Max, ARX, Xpand, Xpand Plus, EXL
Diamond Diagnostics is the pioneer and clear global leader in the manufacture and supply of high quality, cost-effective alternative consumables for Siemens.
♦ High Quality Alternative
♦ Direct, Drop-in Replacement Products
♦ 2-3 Years Expiration on all Reagents
♦ FDA 510k Cleared, ISO Certified, CE Marked
♦ Bulk and OEM Options Available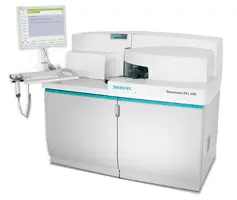 FDA 510k Cleared, ISO Certified, CE Marked
Reagents & Controls

DA-S620D
Standard A
All Models
3X1000ML
DA-S625D
Standard B
All Models
3X300ML
DA-S630D
Flush Solution
All Models
3X1000ML
DA-D105D
Salt Bridge Solution
All Models
3X150ML
DA-S635D
Sample Diluent
All Models
6X500ML
DA-S640D
IMT Dilution Check
All Models
60ML
Electrodes & Accessories

DA-D828D
Cuvette Cartridge
All Models
EA
DA-D829D
Printer Paper
XL,RXL,Max,ARX
PK-4
∞ For further information contact Customer Service - CS@diamonddiagnostics.com or call (508) 429-0450.
∞ Pricing subject to change without notice. Minimum order is $50.