Hitachi 704, 717, 902, 911, 912, 914, 917
Diamond Diagnostics is the pioneer and clear global leader in the manufacture and supply of high quality, cost-effective alternative consumables for Roche.
♦ High Quality Alternative
♦ Direct, Drop-in Replacement Products
♦ 2-3 Years Expiration on all Reagents
♦ FDA 510k Cleared, ISO Certified, CE Marked
♦ Bulk and OEM Options Available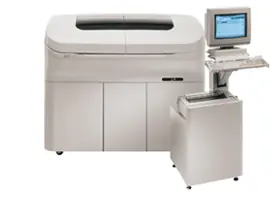 FDA 510k Cleared, ISO Certified, CE Marked
Reagents & Controls

BM-450043D
ISE Diluent
911,912
5X300mL
BM-820637D
ISE Diluent
704,902
6X1L
BM-820638D
ISE Diluent
717,747,914,917
6X2L
BM-1135329D
Hitergent Solution
911,912
14X100ML
BM-409149D
Hitergent Solution
All Models
1L
BM-450042D
ISE Internal Reference
911,912
5X600ML
BM-836246D
ISE Internal Reference
704,717,747,902,914,917
6X2L
BM-450041D
KCl Electrolyte Solution
902,911,912
5X300ML
BM-820639D
KCl Electrolyte Solution
704,717,747,914,917
1L
BM-620427D
ISE High Standard
All Models
10X2ML
BM-620428D
ISE Low Standard
All Models
10X2ML
BM-1224310D
Cell Clean Solution
All Models
6X2L
BM-1489828D
ISE Compensator
All Models
10X2ML
BM-1131079D
System Cleaning Solution
All Models
EA
Electrodes & Accessories

BM-371037D
Na+ Electrode
All Models
EA
BM-371038D
K+ Electrode
All Models
EA
BM-372039D
Cl- Electrode
All Models
EA
BM-373039D
Reference Electrode
902,911,912,917
EA

BM-704589D

Reference Electrode
704, 717, 747, 914
PK-6

BM-70703101D

Sample Probe
911,912
EA

BM-7070926D

Reagent Probe
911,912
EA
BM-7130282D
Cuvettes
902
PK-18
BM-7170551D
Cuvettes
911,912
PK-24
BM-409041D
Sample Cups
All Models
PK-1000
BM-409079D
Halogen Lamp
All Models
EA
∞ For further information contact Customer Service - support@diamonddiagnostics.com or call (508) 429-0450.
∞ Pricing subject to change without notice. Minimum order is $50.